Ceilis
---
** Ceilis CANCELLED temporaily **
— until they resume, enjoy our Virtual Ceilis online —

Since set dancing won't be happening for a quite a while, we're going online, hosting a 'Virtual Ceili' Concert Series as a way to stay in touch. We've planned a series of live-streamed concerts to take place during what would be the last hour of our monthly ceili, so mark your calendars for the fourth Sunday of the month.
Look for GWCC online on Facebook and YouTube

These virtual ceilis will be free, but donations are always appreciated to help support the musicians we hire and the Club. We set up a Paypal link (www.paypal.me/gwccevents) for this purpose, look for it to be posted periodically during the concert. There is also a Donate button on Facebook.
---
We all still miss dancing together, but at least we can enjoy our 'Virtual Ceili' concerts. The next one, at 7pm on Sunday, August 22 and features Alice Bradley and Zan McLeod.
Another evening you don't want to miss! (for more details)
Please tune in for our next 'Ceili Concert' Series concert! As before, the concert will be live streamed on our YouTube Channel (GWCC Online) and our Facebook page (GWCC SetDancedc).
Video of the concerts are also available on both platforms to watch later.
Past performers for our Virtual Ceilis are
Lilt (Tina Eck & Keith Carr) on September 27.
Crystal Bailey & Patrick Cavanagh on October 25
Kevin Elam & Joe DeZarn on November 22
Josh Dukes & David McKindley-Ward on December 13
Joe DeZarn and Pat Egan on January 24
Marty Frye and Sarah Collins on February 28
Alex and Duncan Boatright on March 28
Billy McComiskey and Laura Byrne on April 25
Sam Suplee and Peter Brice on May 23
Patrick Armstrong and Mitch Fanning on June 27
Andrew Caden and Zan McLeod on July 25
Alice Bradley and Zan McLeod on Aug 22

You can re-watch any of these at our YouTube channel – YouTube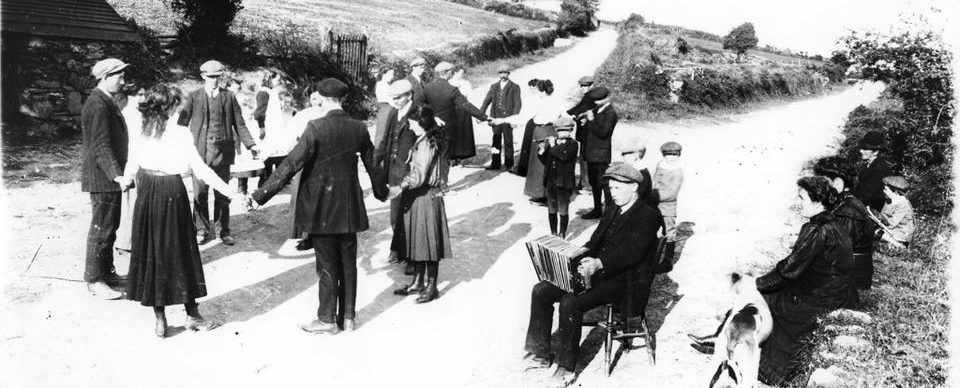 All our dances take place on the beautiful hardwood floor at the Cherry Hill Ballroom in College Park, MD, unless otherwise noted. A review of a featured Irish set dance takes place one hour before each dance (ie 3-4pm), except at the New Year's Day Ceili.

Admission: $15 for GWCC members; $20 for nonmembers $8 for Students 11-20; Kids under 11 free (unless otherwise noted)

For information call (301) 512-4480 or (301) 649-6410 or email: info@gwcc-online.org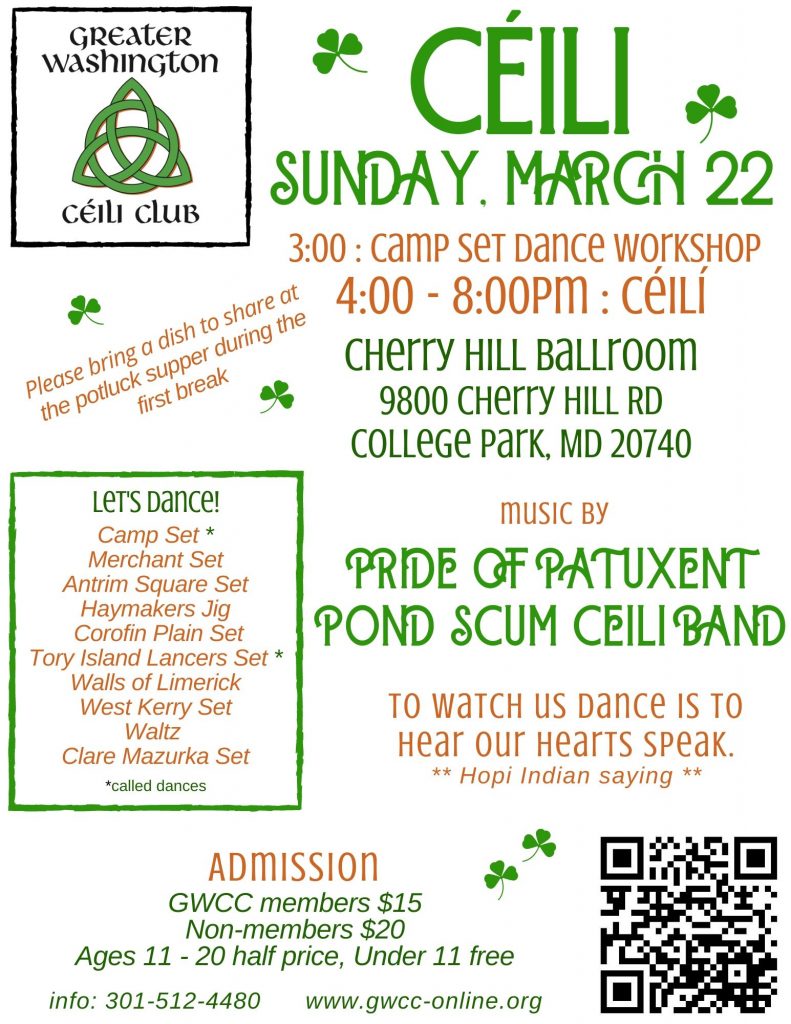 ---
Ceili schedule and details – 2019-2020
---
2019-2020 Ceili Season Schedule

Sunday, September 22, 2020 - 3:00 - 8:00 pm     
Rambling House 
Workshop Set Dance:     Rinkinstown Set - Molly Rehbehn
 (Note this is at the BCC Rescue Squad)   

Sunday, October 27, 2020  - 3:00 - 8:00 pm    
The Inn Mates (Zan McLeod, Tina Eck, Mitch Fanning, Jesse Winch)  with Alice Bradley
Workshop Set Dance:     Claddagh Set - Paul O'Donnell
 (Note this is at the BCC Rescue Squad)   

Sunday, November 24, 2020  - 3:00 - 8:00 pm    
Shepherd's Pie Ceili Band
Workshop Set Dance:     Old Mill Lancers Set - Marilyn Moore
 (Note this is at the Bethesda Women's Club) 

Sunday, January 1, 2020    - 4:00 - 8:00 pm    
Ellis Island - Dave Abe, Myron Bretholz, Peter Fitzgerald, Martin McCann, and Andy Thurston
Workshop: none 
Admission: $20 members / $25 non-members     

Sunday, January 26, 2020   - 3:00 - 8:00 pm    
Laura Byrne and friends             
Workshop Set Dance:     Morris Reel - Marilyn Moore 

Sunday, February 23, 2020  - 3:00 - 8:00 pm    
The New Century Ceili Band
Workshop Set Dance:     Tory Island Lancers - Ann Marie Breheney    

Sunday, March 22, 2020     - 3:00 - 8:00 pm    CANCELLED
Danny Flynn and the Pride of Patuxent - Pond Scum Ceili Band
Workshop Set Dance:     Camp Set - Ann Marie Breheney    
   
Sunday, April 26, 2020     - 3:00 - 8:00 pm     CANCELLED     
Marty Fry and friends
Workshop Set Dance:     Labasheeda Set - Don Kaliher

Sunday, May 31, 2020       - 3:00 - 8:00 pm    
band  tb
Workshop Set Dance:     Newport Set - Paul O'Donnell 
 (Note date shift to 5th Sunday)