Ceilis
---
Since set dancing won't be happening for a quite a while, we're going online, hosting a 'Virtual Ceili' Concert Series as a way to stay in touch. We've planned a series of live-streamed concerts to take place during what would be the last hour of our monthly ceili, so mark your calendars for the fourth Sunday of the month.
Look for GWCC online on Facebook and YouTube

Previous performers for our Virtual Ceilis are
Lilt (Tina Eck & Keith Carr) on September 27.
Crystal Bailey & Patrick Cavanagh on October 25

These virtual ceilis will be free, but donations are always appreciated to help support the musicians we hire and the Club. We set up a Paypal link (www.paypal.me/gwccevents) for this purpose, look for it to be posted periodically during the concert. There is also a Donate button on Facebook.
---
Join us — 7pm, Sun, 11/22: Kevin Elam with Joe DeZarn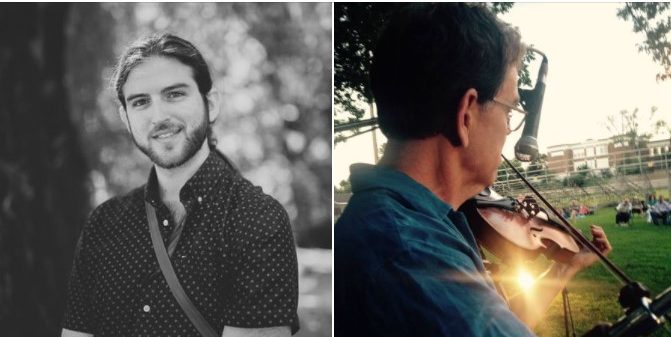 Please tune in for our next 'Ceili Concert' Series concert! As before, the concert will be live streamed on our YouTube Channel (GWCC Online) and our Facebook page (GWCC SetDancedc). Video of the concert will be available on both platforms for later viewing as well.
This month we feature music from Kevin Elam, a rising young star in the Irish community. He will be joined by a local favorite fiddler, Joe DeZarn. The one-hour concert will again include some tunes specifically for a set dance figure, this time from the Caledonian, called by Ann Marie Breheny and modified for dancing at home.
Kevin Elam is a multi-instrumentalist and 2019 All-Ireland Champion in Men's Singing. Although he boasts a strong background in classical piano and a degree in Jazz studies from George Mason University, Kevin is rooted in Irish traditional music. In addition to playing the tin whistle, guitar, mandolin and banjo, Kevin has also honed his skills as a singer and interpreter of Irish traditional song. In August of 2019, he was awarded first place in Men's English Singing at the 2019 Fleadh Cheoil na hÉireann, taking home the coveted "Dalaigh Shield", an award won by only one other American in its 62-year history.
In addition to his All-Ireland title in Men's Singing, Kevin has achieved recognition at home as a competitor in the CCE Mid-Atlantic Fleadh, winning a total of twelve different awards (including seven first places) in 2017-19. In 2017-2019, Kevin won a total of twelve different awards, including seven first-place awards. Over the past several years, Kevin has performed at the Kennedy Center, the National Gallery of Art, the Library of Congress, as well as at the Virginia Scottish Games, Acadia Trad Festival, Appaloosa Festival, and many other folk music festivals in the DC area.
Kevin greatly enjoys sharing his knowledge and insight with students, giving classes and workshops throughout the Eastern US; in 2020 joining the prestigious faculty of DC's premiere Irish traditional music festival, CCE MAD week. Kevin can be heard playing and singing at the weekly session at the Irish Inn at Glen Echo and a variety of other DC area sessions.
Joe DeZarn counts the Washington DC region's Irish music and dance community as one of the great joys in his life. He credits the ceili and step dancers as fundamental influences on his fiddle playing.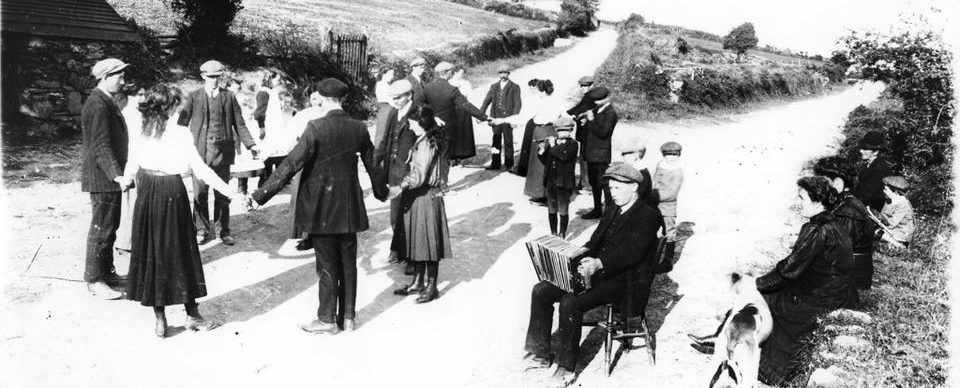 All our dances take place on the beautiful hardwood floor at the Cherry Hill Ballroom in College Park, MD, unless otherwise noted. A review of a featured Irish set dance takes place one hour before each dance (ie 3-4pm), except at the New Year's Day Ceili.

Admission: $15 for GWCC members; $20 for nonmembers $8 for Students 11-20; Kids under 11 free (unless otherwise noted)

For information call (301) 512-4480 or (301) 649-6410 or email: info@gwcc-online.org
** Ceili CANCELLED for Sept – Dec 2020 **
— check back to see how things look for 2021 —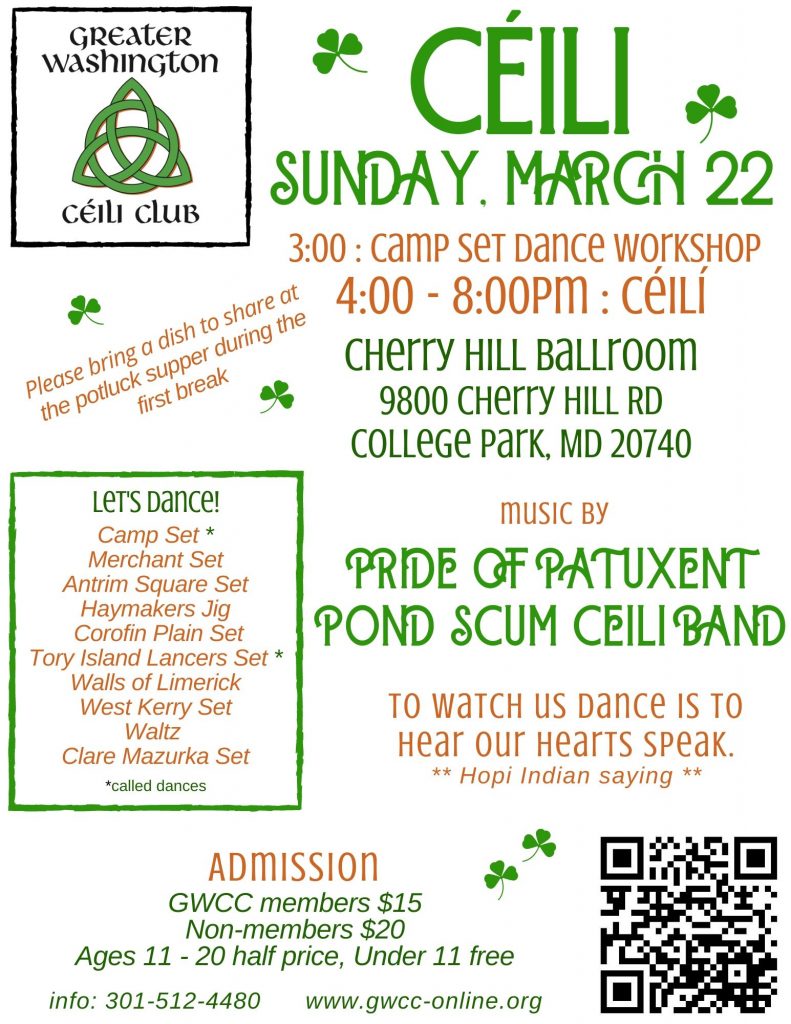 ---
Ceili schedule and details – 2019-2020
---
2019-2020 Ceili Season Schedule

Sunday, September 22 - 3:00 - 8:00 pm     
Rambling House 
Workshop Set Dance:     Rinkinstown Set - Molly Rehbehn
 (Note this is at the BCC Rescue Squad)   

Sunday, October 27  - 3:00 - 8:00 pm    
The Inn Mates (Zan McLeod, Tina Eck, Mitch Fanning, Jesse Winch)  with Alice Bradley
Workshop Set Dance:     Claddagh Set - Paul O'Donnell
 (Note this is at the BCC Rescue Squad)   

Sunday, November 24  - 3:00 - 8:00 pm    
Shepherd's Pie Ceili Band
Workshop Set Dance:     Old Mill Lancers Set - Marilyn Moore
 (Note this is at the Bethesda Women's Club) 

Sunday, January 1    - 4:00 - 8:00 pm    
Ellis Island - Dave Abe, Myron Bretholz, Peter Fitzgerald, Martin McCann, and Andy Thurston
Workshop: none 
Admission: $20 members / $25 non-members     

Sunday, January 26   - 3:00 - 8:00 pm    
Laura Byrne and friends             
Workshop Set Dance:     Morris Reel - Marilyn Moore 

Sunday, February 23  - 3:00 - 8:00 pm    
The New Century Ceili Band
Workshop Set Dance:     Tory Island Lancers - Ann Marie Breheney    

Sunday, March 22     - 3:00 - 8:00 pm    CANCELLED
Danny Flynn and the Pride of Patuxent - Pond Scum Ceili Band
Workshop Set Dance:     Camp Set - Ann Marie Breheney    
   
Sunday, April 26     - 3:00 - 8:00 pm     CANCELLED     
Marty Fry and friends
Workshop Set Dance:     Labasheeda Set - Don Kaliher

Sunday, May 31       - 3:00 - 8:00 pm    
band  tb
Workshop Set Dance:     Newport Set - Paul O'Donnell 
 (Note date shift to 5th Sunday)