Dance Classes
---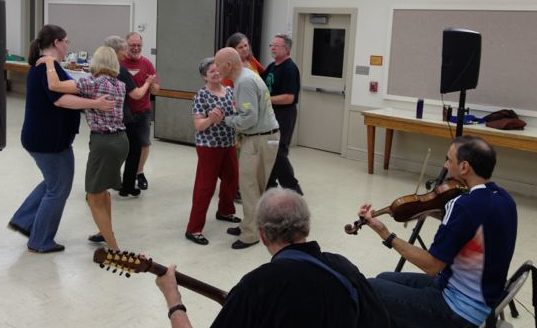 * COVID UPDATE *
The GWCC Board of Directors updated our health and safety policy. We are no longer going to require the wearing of masks at GWCC events.
The new policy details —
Given the 'close contact' nature of dancing, we recommend/encourage/welcome the wearing of masks.
We continue to require proof of COVID vaccination (at the first GWCC event attended).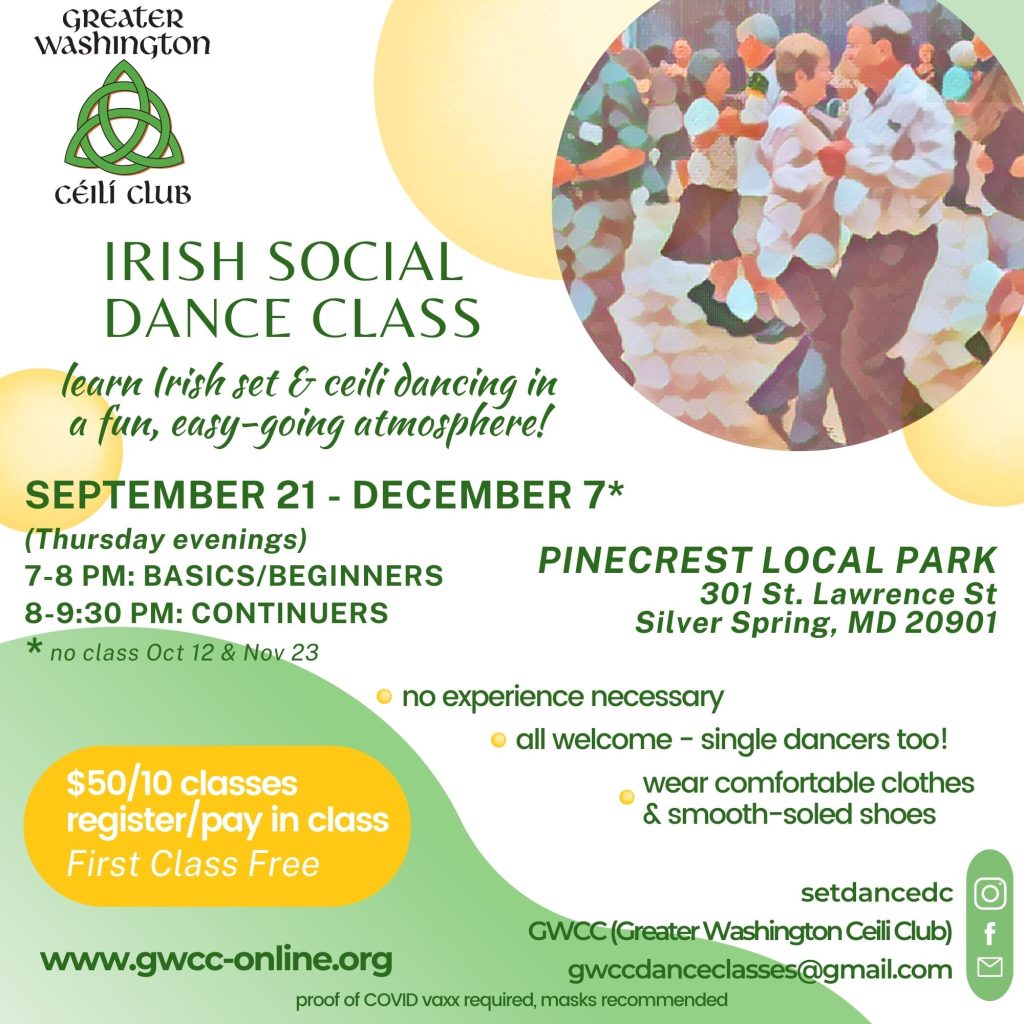 Classes for Fall 2023 start on September 21 and run through December 7.
Thursday evenings:
7:00-8:00 pm basic / beginners
8:00-9:30 pm improvers / advanced
The price is only $50 for the full Fall session (10 classes). First class is free.
Class meets at the Pinecrest Local Park Building off University Blvd near Four Corners.
The address is 301 St. Lawrence St., Silver Spring, MD 20901.
This is near the intersection of US-29 and MD-193.
If you are using public transportation, you can take Metrorail Silver Spring and the #9 and #19 buses will get you within blocks of Pinecrest Park.

Some basic information about our program
The beginner class is open to all interested dancers. It will cover basic footwork, movements and terminology as well as common dances. No experience, partner or special equipment are needed. Wear comfortable clothes and shoes (preferably with smooth soles).
The experienced class assumes dancers know most basic movements, footwork and terminology. Dancers will learn (or refresh) new and less common dances, get a head-start on the GWCC Set of the Month and learn new footwork.
A mini-ceili with live musicians will occasionally replace some of classes, with small donations requested for the musicians who provide the music. Mini-ceili dates will be announced in the future.
Not sure whether class is for you? Your first class is free! Try before you buy.
Our classes are friendly and fun! Set and ceili dances are social dances – we try to maintain that attitude in class. The group includes a mix of adult novice and experienced dancers. Instruction is flexible in pace and content, the instructor reviewing or moving on as appropriate.
We focus on traditional Irish country sets, but include some ceili dances as well. The 7pm class is best for new dancers, but they are welcome to stay and watch (and even participate in) the 8pm class, where the students have more experience.
Frequently Asked Questions
What are set and ceili dances?
* Set dances: dancers are usually arranged in a square – like in American square dances; and the dances are composed of several parts [figures] with a brief break in between each figure.
* Ceili dances: danced in a variety of formations and can often be progressive – a relatively simple pattern is repeated as dancers move through the group, or square set as above.
What do I need for class?
First … you do NOT need a partner!
Wear comfortable clothes – you will be pretty active in class.
We recommend comfortable shoes with smooth soles (leather/synthetic) that will stay securely on your feet – this allows for smooth movement around the floor, especially when swinging.
(Tennis/athletic shoes are not recommended – they tend to stick instead of slide.)
Water is provided — you may want to bring your own re-usable water bottle.
What does it cost?
$50 for the full session, but your first class is FREE. We offer 3 or 4 sessions over the year; classes cancelled due to inclement weather are not re-scheduled. Advance registration is not necessary.
Payment can be made during class in cash or by check (payable to GWCC).

In addition, we invite a $5 donation (at the door) when we have a mini-ceili (usually on the 3rd Thursday of the month in lieu of the 8pm class). Attendance at mini-ceilis is optional, but encouraged. It is also open to non-students.

What is a mini-ceili?
Our mini-ceili are usually on the 3rd Thursday and are a casual opportunity for all students to practice what they've learned and have fun! Dances include favorite standards and dances being learned in class.
The 7pm class is held as usual; then, starting at 8pm, several musicians from the local community play for us as we dance until 10pm — we ask for a $5 donation/person to compensate the musicians. We also share snacks/refreshments potluck style. Participation is optional, and mini-ceilis are open to anyone — bring your friends!

Still have questions?
Please feel free to e-mail instructor Ann Marie Breheny at gwccdanceclasses@gmail.com. You can also find us on social media (buttons are on the bottom of the page)