Ceilis
---
Monthly Ceilis Return in the Fall

Our last monthly ceili of the season was May 22, 2022
** Ceilis resume in Septermber 2022 **
Our next monthly Ceili is scheduled for September 25, 2022
Note: while it was the last ceili of the season.
our dance classes continued through the summer.
Much has changed since COVID arrived, so here are some important changes/info/reminders:

– Everyone must show proof of full vaccination plus booster(s) to enter. This proof only needs to be provided once — anyone who submitted this proof previously is covered.
Please be patient at the door while we process this added step. (Consider emailing a photo of your card to irishgwcc@aol.com in advance of the ceili to shorten lines at the door.

– Given the nature of set dancing, we are requiring masks be worn, except while eating/drinking. As unappealing as it is, dancing has us breathing even closer than just a conversation.

– There is a potluck supper during the first break, please bring a 'ready to eat' dish to share.
Prices are – $20/GWCC members, $25/non-members, 11 & under half price
It's been a long, difficult road, we're glad to be back and hopeful that conditions continue to improve. We hope many of you can join us !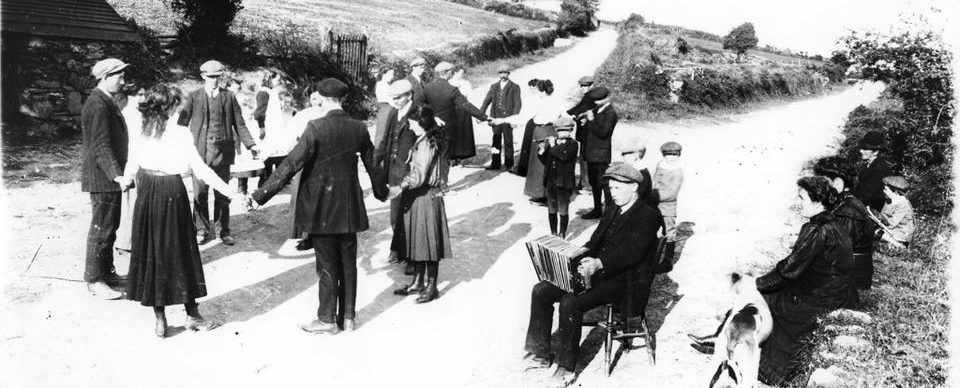 ---
When we had to cancel our monthly ceili we struggled to find a way to stay connected.
One response was to go online with our Virtual Ceili' Concert Series –
a series of live-streamed concerts featuring local musicians.

You can still watch any of these Virtual Ceilis at our YouTube channel – YouTube
---
Ceili schedule and details – 2021-2022
---
Sunday, November 28, 2021  - 3:00 - 8:00 pm    
Rambling House
       
Sunday, January 1, 2022  - 4:00 - 8:00 pm   (CANCELLED)

Sunday, January 23, 2022 - 4:00 - 8:00 pm   (CANCELLED)

Sunday, February 27, 2022 - 4:00 - 8:00 pm  with Ellis Island

Sunday, March 27, 2022 4:00 - 8:00 pm   with Peter Brice and the New Century Ceili Band 

going forward - details are still being worked out
---